12th IAAH World Congress on Adolescent Health - There's Something for Everyone!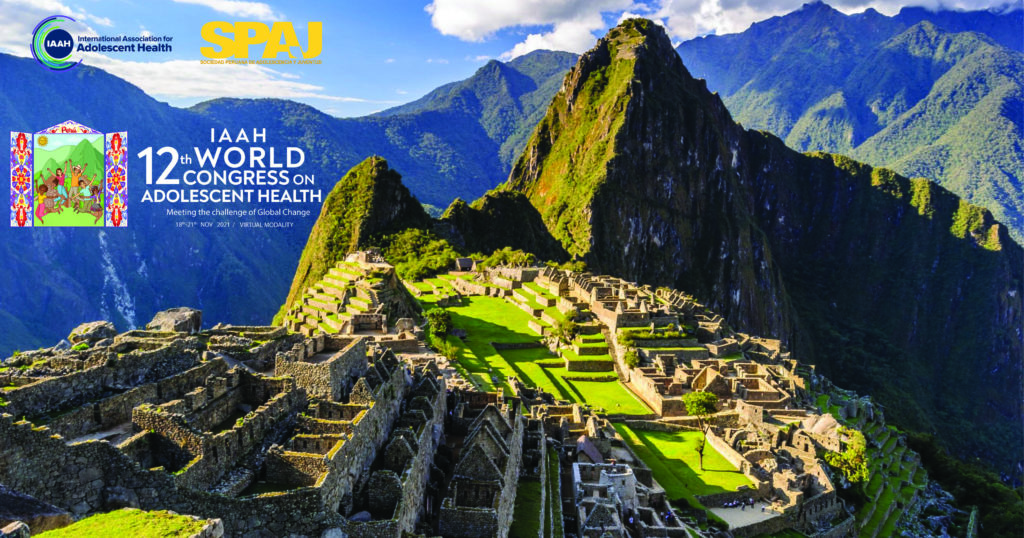 The 12th IAAH World Congress on Adolescent Health will be a fully virtual event from November 18th to 21st. We may not be able to marvel in person at the beauty of Machu Picchu, but we will nevertheless be enjoying the spirit of Peru as the Latin America Region of IAAH, in partnership with the Peruvian Society of Adolescence and Youth (La Sociedad Peruana de Adolescencia y Juventud, SPAJ), transports us to the 2021 World Congress.
Navigating the brave new world of online conferencing over the past 18 months has shown its potential and its drawbacks. The IAAH World Congress Organising Committee and Council have reflected on their own experiences to try and bring a positive close to 2021 with an event that restores our energy, connection and vision for the future.
From 18-21 November, IAAH and SPAJ will offer a multi-track programme of high-quality educational programming that reflects its leadership role in global adolescent health. All world regions are represented in plenary sessions, and young leaders will be partnering with senior professionals to bring their perspective to the major issues of each day.
We will have the chance to celebrate outstanding contributions to adolescent health; please do not miss the closing session on Sunday 21 November (this session will be live streamed and available to view here) for the inaugural Young Professional Prize, The IAAH Founders Awards, and IAAH Honorary Fellowship. This session continues with a program hosted by the Partnership for Maternal, Newborn, and Child Health (PMNCH), with UN organizations and partners presenting on adolescent well-being. Also on Sunday, we are delighted to have a UNICEF-led session on adolescent mental health, and you will see that many sessions have direct input from UN agencies.
This year the scientific program features cutting-edge plenary sessions, many workshops, a Youth Track and networking opportunities for all professionals in Global Adolescent Health! We will offer themes related to healthcare and the wider determinants of health, including pressing global challenges of climate change and migration. We will look at intersectoral partnerships as the way to provide real-world solutions that reflect the complexity of adolescent lives and life contexts.
Youth Track sessions are dispersed through the congress and will feature a range of presentations targeted to an adolescent and young adult audience and led by youth themselves. To date, scores of young people are registered for the event which promises to engage brisk youth participation.
Our Young Professionals Network will host a series of workshops and activities geared specifically to new and emerging professionals across the spectrum of careers in Global Adolescent Health. The Congress will be an excellent networking opportunity. We are grateful to PAHO/WHO, UNICEF, UNFPA, and AstraZeneca Young Health Programme for their support of these sessions.
Presentations of scientific research will hold significant space within the Congress agenda. Submissions range of topics in Adolescent Health. Selected abstracts will be featured at the Presidential Abstract Plenary Session, while others are categorized according to themes. You can visit the research posters and chat in real-time to the presenters through our innovative networking conference platform.
Dispersed through the program are a series of symposia on topics including inter-culturality and health; positive youth development; the intersections between adolescent health and education; and updates on the COVID-19 Pandemic and Global Adolescent Health. In addition, there are 9 unique workshop sessions which feature novel approaches and solutions to adolescent health issues as well as poster presentations.
Our World Congress on Adolescent Health is an event not to be missed. The virtual platform will allow translation in English and Spanish. The novel interface will permit participants to engage and interact with each other in the online space facilitating networking and dialogue opportunities. If you have not yet done so, be sure to register for the World Congress as we "Meet the Challenge of Global Change".
– Asha Pemberton, IAAH Caribbean Vice President & Nicola Gray, IAAH European Vice President