Regional Vice President Spotlight - Middle East and North Africa (MENA)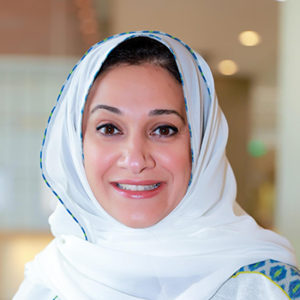 Fadia AlBuhairan is a Consultant Pediatrician and Adolescent Medicine physician from Saudi Arabia and is the pioneer of adolescent and youth health in the Middle East and North Africa (MENA) region. She is currently an adjunct professor of pediatrics at Alfaisal University and is a senior advisor at the Health Sector Transformation Program in Saudi Arabia.
She bridges her medical and public health expertise to advocate for adolescents' health needs and services at systems' levels and through cross sectoral and life-course lens approaches to health. AlBuhairan's breadth and depth of experience range across the public, private, and non-profit sectors. She has set up and operated new services in well-established institutions and has also established services and inaugurated a green-field hospital.
Through her scholarly work, AlBuhairan has led to the generation of evidence needed to inform the required health policy, services, and programs at the macro and micro levels. She conceived the landmark study, Jeeluna, which addresses adolescent health in Saudi Arabia and is the largest epidemiological study on adolescents in MENA to date. She is a regular advocate for the importance of evidence-based policy and decision making, and her research interests include adolescent health risk behaviors and protective factors, health policy, and health services.
AlBuhairan is currently the President of the Arab Coalition for Adolescent Health and Medicine, a regional network dedicated to advancing the awareness of and promoting adolescent health and wellbeing. She also serves as a member of the World Health Organization's (WHO) Strategic and Technical Advisory Group of Experts (STAGE) on Maternal, Newborn, Child, and Adolescent Health and Nutrition, advising the WHO Director General on related matters.
She has previously held multiple leadership roles, including Chief Medical Officer and Chair of the Department of Pediatrics and Adolescent Medicine at AlDara Hospital in Riyadh; Consultant of Pediatrics and Adolescent Medicine at the Ministry of National Guard-Health Affairs; Head of the Center of Excellence at the National Family Safety Program; and Head of Population Health Research and Lead of the Adolescent Health Research Program at the King Abdullah International Medical Research Center. AlBuhairan was previously as adjunct associate professor at the Bloomberg School of Public Health at Johns Hopkins University.
AlBuhairan obtained her fellowship in adolescent medicine from University of Toronto and SickKids Hospital; Master of Public Health (MPH) from Johns Hopkins University; and PhD in Public Health from Maastricht University. She is the recipient of the prestigious 2020 Society for Adolescent Health and Medicine (SAHM) Award.
About the Author
Fadia S. AlBuhairan, MD, MPH, PhD  is a Consultant Pediatrician and Adolescent Medicine Physician.