The Next Chapter of the IAAH Young Professionals Network
The International Association for Adolescent Health (IAAH) Young Professionals Network (YPN) is a ~800 strong community of students, trainees, and early career professionals (including health care providers, researchers, public health practitioners, advocates, scientists, social workers, pharmacists) within 10 years in their respective field, who are interested in improving the health of adolescents locally, nationally, and globally. The YPN provides a forum to share training opportunities in adolescent health and supports networking, mentorship, and leadership development.
The IAAH YPN is led by the Co-Chairs and Committee Officers who have an interface with the IAAH Council so that the IAAH YPN have a strong voice within the Council and vice versa, in order to support the development of future leaders in adolescent health.
2022 – 2024 IAAH YPN goals
To provide diverse opportunities for the IAAH YPN to advance their knowledge, skills, and experience in the field of adolescent health.
To promote collaboration and build relationships between the IAAH YPN and more experienced professionals and leaders in adolescent health including relevant young professional led adolescent health organizations.
To provide a collective voice advocating for adolescent health and wellbeing.
What do you think of our proposed goals?
Share your thoughts with us – iaahyoungprofessionals@gmail.com
Join our global Young Professionals Network
We are creating a diverse network with opportunities for education and training, leadership and mentoring, as well as opportunities to engage with fellow members.
To join the IAAH-YPN, please complete our membership form: https://is.gd/iaahypnjoin
Para unirse a IAAH-YPN, complete nuestro formulario de membresía: https://is/gd/iaahypnjoins
Meet our new officers
Visit our webpage – https://iaah.org/young-professionals-network/ – to meet the new officers.
Join Us for World Mental Health Day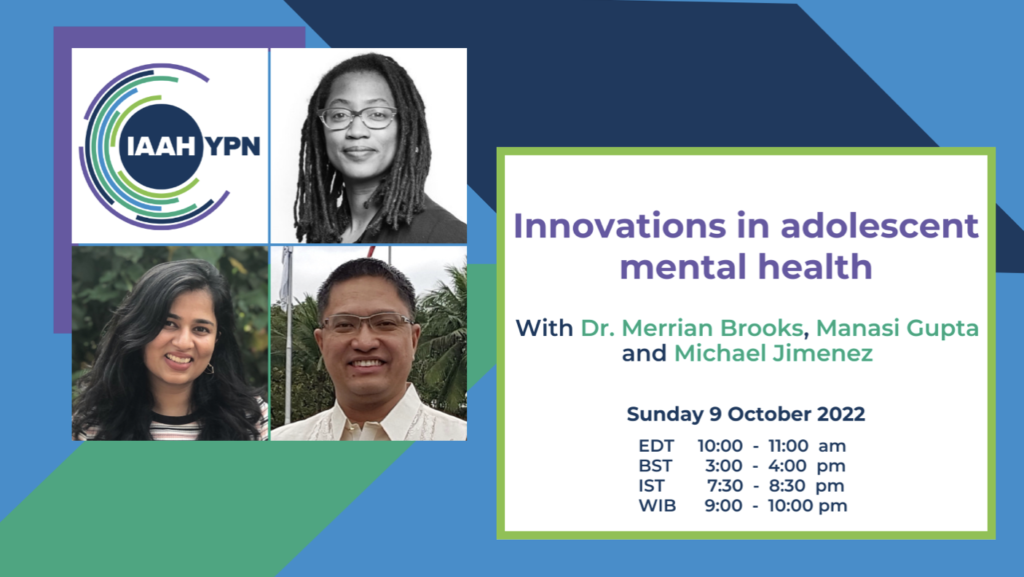 In celebration of World Mental Health Day (Oct 10) the International Association for Adolescent Health – Young Professionals Network is thrilled to invite you to join us on Sunday, October 9th at 3:00 pm BST for the webinar – Innovations in Adolescent Mental Health.
Sunday, October 9th, 2022
EDT 10:00 – 11:00 am
BST 3:00 – 4:00 pm
Click here to register!
We look forward to sharing our goals for 2023 in the coming months.
Molly O'Sullivan, Dyana Velies, Melis Pehlivantürk, and Stephanie Partridge
IAAH YPN Co-Chairs 2022-2025
If you'd like to join the YPN, please fill out our brief membership form.